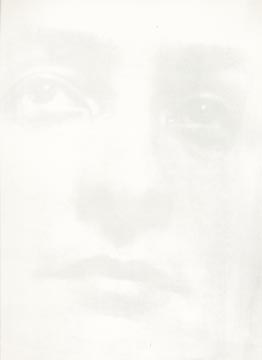 Experimental print made from borrowed image, no permission available for reproduction, as the copyright is not mine
This was an idea that I played with for a while but have never developed further or printed with one of my own images for exhibition work. The idea was that at first glance, it would look like a blank piece of paper, and then suddenly the image would become apparent. I printed this on Japanese paper and had it hanging in my studio for a while, and it seems to have worked, because people would walk past it and then I'd hear them catch their breath as they saw the face.
In tonality this looks something like the later high-key images I made (during the "minimalist" period) but doesn't belong with them since the idea behind it was quite different, and wasn't made the same way. This one, I made by printing and developing the image as usual, then transferring the print to another paper while the gum was still wet. It transferred just enough of the gum to give a faint image.